The Lycosidae, commonly called wolf spiders are a family of hunter spiders found throughout the United States and the rest of the world.
There are many species of the Wolf Spider in North America, many of which look very similar. Twice in the past I asked an entomologist (both times were different entomologists) to help me identify the different Wolf Spiders that have been sent to me. Both times, they turned me down for the same reason. It is simply too hard to identify the different species of Wolf Spiders without putting the spider under the microscope to look at the genitalia.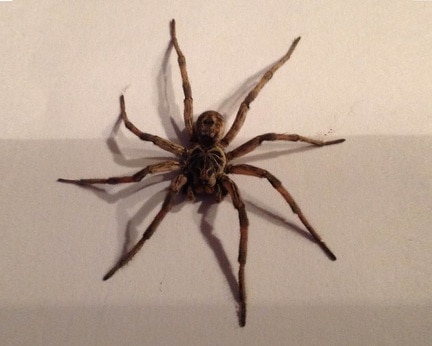 So I learned not to try to do this myself. The information listed is for the Wolf Spider in general and not for any particular species.
A common species of the Wolf Spider is very similar to the common American Grass Spider or the Nursery Web Spider. They often do not have quite the same striping but the best way to tell them apart is by the eye pattern as described below.
Description
The descriptions change from one wolf spider to another, but there are some more common characteristics. The  general shape is of a thick set spider with thicker legs meant for walking, rather than hanging in webs.
The best way for the common  person to recognize a Wolf Spider is by the eyes. Wolf Spiders have a horizontal row of four smaller eyes. Above those  four eyes, is a pair of larger eyes, and above those, is another pair of smaller eyes.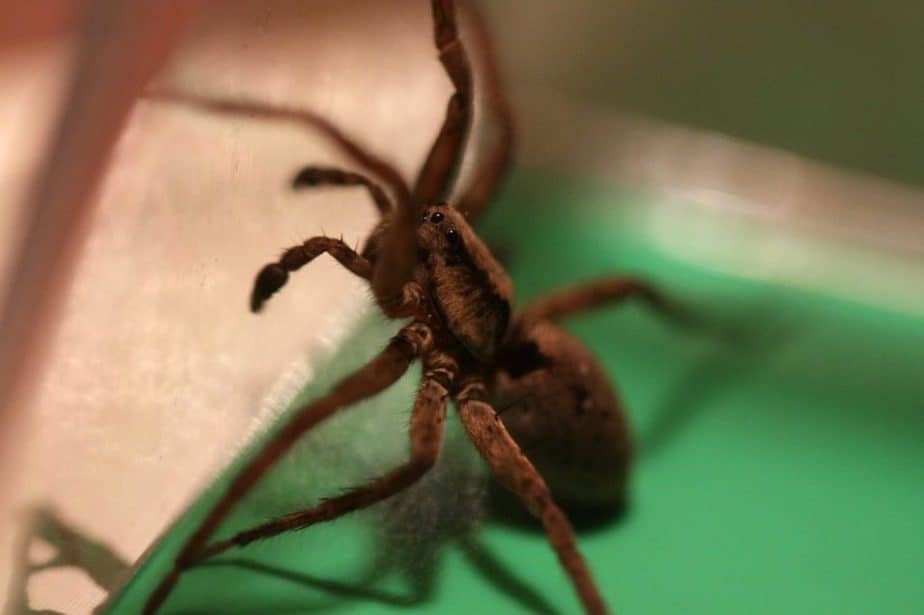 Size
The Wolf Spider can come in all sizes. There are some you will see running around in grass that are only about 3/8" (10 mm), while some species of the Wolf Spider reaches up to around 3" (76 mm). (These sizes include the legs)
Web
The Wolf Spider is a hunting spider and will wander in search of its prey. They usually do not spin webs like most spiders do. Though they have the ability to, they often only do so to attach their eggs to their abdomen and carry them around. Once the babies hatch, they will continue to ride around on the mother's back until they are large enough to fend for themselves.
Bites
The bite from a Wolf Spider can cause some pain, redness and swelling. In some cases, swollen Lymph glands may occur and the skin area at the bite can turn black. Swelling and Pain can last up to 10 days. On a very rare occasion, a bite can cause necrotic lesions similar to the Recluse or Hobo Spider (Neither of which is in Michigan) but nowhere as severe.
The Wolf Spider has a reputation as a dangerous spider that is not deserved and is listed as a low risk danger. They are also one of the more common spiders in the United States. In the fall time, males will wander in search for a mate and sometimes be drawn to the warmer temperatures of our homes. Because of this, it is not uncommon to find them running across our floors during Fall.
Lycosidae Scientific Classification
Kingdom: Animalia
Phylum: Arthropoda
Subphylum: Chelicerata
Class: Arachnida
Order: Araneae
Infraorder: Araneomorphae
Family: Lycosoidea
Genus: Lycosidae
Distribution of wolf spiders in the USA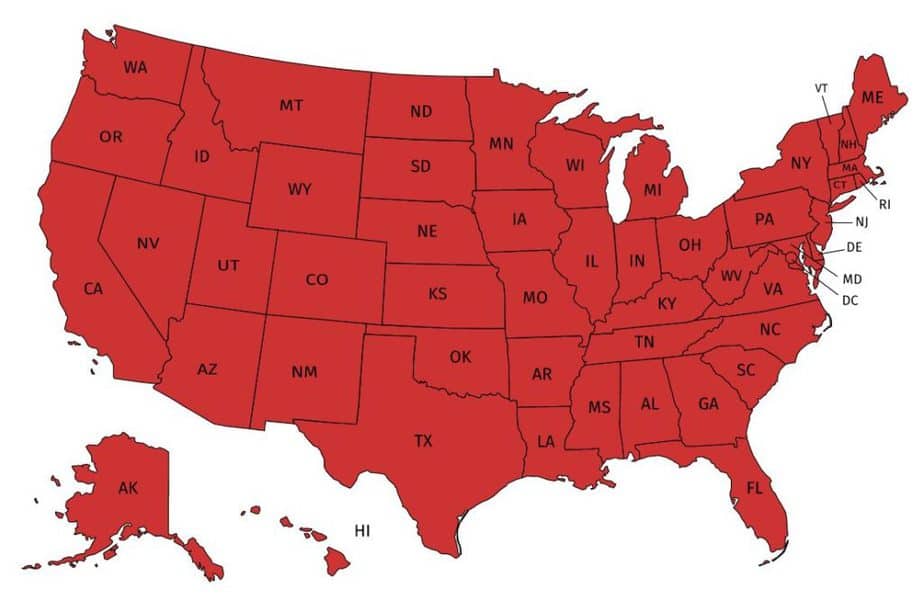 Various wolf spider species can be found throughout the United States: Alabama, Alaska, Arizona, Arkansas, California, Colorado, Connecticut, Delaware, Florida, Georgia, Hawaii, Idaho, Illinois, Indiana, Iowa, Kansas, Kentucky, Louisiana, Maine, Maryland, Massachusetts, Michigan, Minnesota, Mississippi, Missouri, Montana, Nebraska, Nevada, New Hampshire, New Jersey, New Mexico, New York, North Carolina, North Dakota, Ohio, Oklahoma, Oregon, Pennsylvania, Rhode Island, South Carolina, South Dakota, Tennessee, Texas, Utah, Vermont, Virginia, Washington, West Virginia, Wisconsin, Wyoming.
Pictures of North American wolf spiders
Photography by: Loni Cloum – Pontiac, Michigan

A rabid wold spider (Rabidosa rabida) seen in Los Angeles, California by Malcom.

Photography by: Melanie Johnson – Arvada, Colorado

Photography by: Don Farrell – Barry County, Michigan

Photography by: Kristopher Allyn – Mt. Clemens, Michigan

Photography by: Anne Mandrick – Branch, Michigan

Photo taken by Dorothy in Fredericksburg, Virginia

Photography by: Melanie Johnson – Arvada, Colorado

A rabid wolf spider found in Reston, Virginia by Emma

A dark wolf spider found by Brenda near Worthington, Ohio

Photo submitted by Debbie from Roanoke, Virginia

Hogna wolf spider found by Kellly in central Alabama, west of Birmingham

Photo by Lanie, found in Kansas

Found in Northwest Arkansas by Jay I.

Wolf spider found by Bryan in east Texas

Hogna wolf spider found by Kim in Newport, Kentucky

Wolf spider with spiderlings on her back found in Rock Hill, South Carolina by Abby

Found by TIllie in Pleasanton, Texas – a female wolf spider with tiny spiders on her back.

Female wolf spider with babies on her back found by Teresa in Muscle Shoals, AL

A quick wolf spider found by Eugene F in Haughton, Louisiana

A dark wolf spider found by Luan in Northern Colorado

A large and beautiful brown wolf spider found by Bryant S. in Located in Midlothian, Virginia

Hogna wolf spider found by Suzanne in Rockville, MD

Submitted by Jessica from Central Virginia

Submitted by Marlee from northern Wisconsin

A wolf spider missing two legs (they will grow back). Found by Cecilia in central New Jersey

4 inch female wolf spider with babies found in South Georgia USA

Trochosa sepulchralis wolf spider with red legs found by Rachelle

Hogna wolf spider found by Kyle in Joplin, Missouri

Wolf spider with a parasitic wasp grub, found by Tim in Texas

A unicolored brown wolf spider found by Davina in Michigan

A beautiful wolf spider found on the northern tip of Michigan's lower peninsula

Wolf spider found by Cyndi in Tooele, UT

A beautiful wolf spider found by Michelle in Fairview, Tennessee