Currently, around 680 described spider species can be found in Ohio. The most common spider families are small money spiders (Linyphiidae), orb weavers (Araneae), cobweb spiders (Theridiiae), jumping spiders (Salticidae), wolf spiders (Lycosidae) and funnel-web spiders (Agelenidae). While the vast majority of all spiders is harmless for humans, there are four venomous spider species in Ohio. First, we will take a close look at the dangerous spiders in Ohio and then introduce you to other common Ohio house and garden spiders
Poisonous spiders in Ohio
Generally, it can be said that almost all spiders are venomous. However, there are four species of venomous spiders in Ohio that are considered medically significant: the brown recluse (Loxosceles reclusa), the mediterranean recluse (Loxosceles rufescens), the southern black widow (Latrodectus mactans) and the northern black widow (Latrodectus variolus).
Info: Spiders are generally referred to as venomous.
Things that can be ingested are referred to as poisonous (like mushrooms). Animals that transfer a venom through their bite are venomous (e.g. spiders or snakes).
Brown Recluse Spiders in Ohio
The range of the brown recluse spider includes southwestern Ohio, up to Columbus. While recluse sightings also occur north and east of Columbus, they are mostly displaced individuals or small local populations that have yet failed to establish stable populations in these areas. The superficially identifical mediterranean recluse (Loxosceles rufescens) can also be found in Ohio.
Even if you live in the Southwest of Ohio and theoretically in the distribution area of the brown recluse, you are still unlikely to ever encounter one, let along be bitten by one. As their name suggests, these spiders are reclusive and prefer to spend their lives in areas where they are not commonly disturbed by humans. Most alleged brown recluse sightings are usually other brown spiders found in Ohio, commonly wolf spiders, grass spiders or fishing spiders. Here are a few identification marks how to identify a brown recluse:
Size: The brown recluse is a relatively small spider compared to wolf spiders and fishing spiders. It's body size is always under 1 in. (25 mm), maximum 3/4 in (19 mm).
Thin Legs: Recluse spiders have very long, thin and non-hairy legs. If the legs are very hairy or thick, it is most definitely not a recluse.
6 Eyes: Most spiders have eight eyes, recluse spiders have 6 eyes. If you can easily identify 8 eyes, you are not looking at a recluse spider.
Violin Shape. The brown and mediterranean recluse spiders both have a distinct dark brown violin shape on their cephalothorax (spider's head). Other than the violin, the spider does not have any patterns or markings.
Dark Abdomen. While the overall body and legs are uniformly brown except for the darker violin shape, the abdomen of the recluse is darker and can appear gray, dark brown or even black. There are no markings on the abdomen.
No Web. Recluse spiders only build small webs to lay their eggs. If you see a larger, funnel-shaped web or other web structures, you are not dealing with a brown recluse.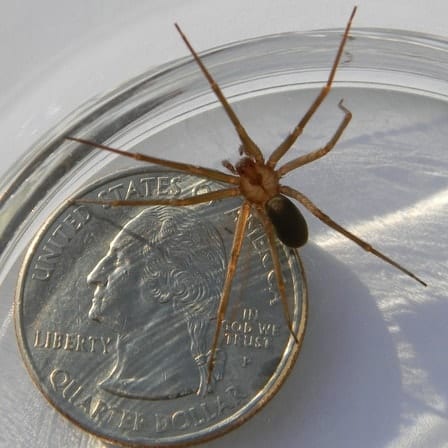 Even though brown recluse spiders have the potential to cause severe necrotism with their bites, these instances are very uncommon. According to scientist Rick Vetter, who studied the venom and effects of brown recluse bites in detail, around 90% of brown recluse bites heal by themselves. Around 3% need skin replacement surgery. Also, around 10 times as many people die from bee and wasp stings than from spider bites in the United States.
Check out the post below to learn more about the brown recluse: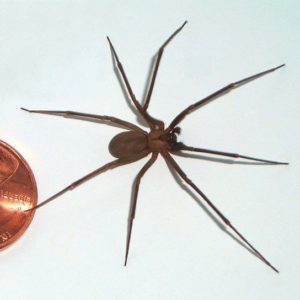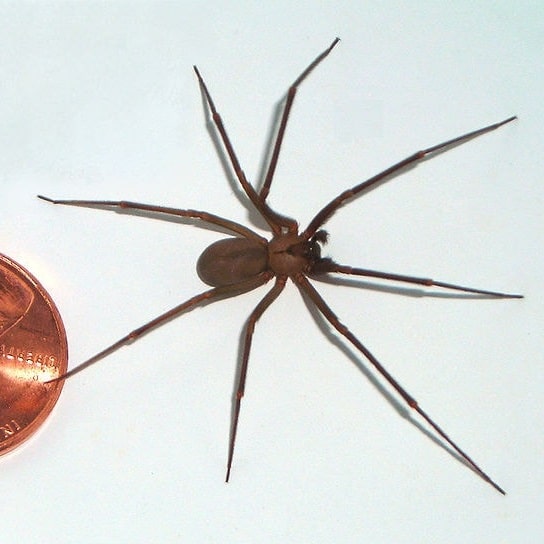 The brown recluse, loxosceles reclusa, is one of the more dangerous spiders indigenous in the United States. While usually not life-threatening, a brown recluse bite might lead to severe skin damage. This page gives an overview of how to identify a brown recluse and in which states in the US it appears. The brown recluse compared to the size of a penny. Brown Recluse Description The brown recluse spider is ...

Black Widows in Ohio
The species of the black widow can be found in Ohio: the southern black widow (Latrodectus mactans) and the northern black widow (Latrodectus variolus). Both species look very similar: the most commonly encountered female has a large round black and shiny abdomen with a red hourglass shape on its bottom. Northern and southern black widow can be distinguished by the hourglass marking:
The hourglass shape of the northern black widow is broken into two parts (two triangles that almost touch). The hourglass shape of the southern black widow is clearly one single shape.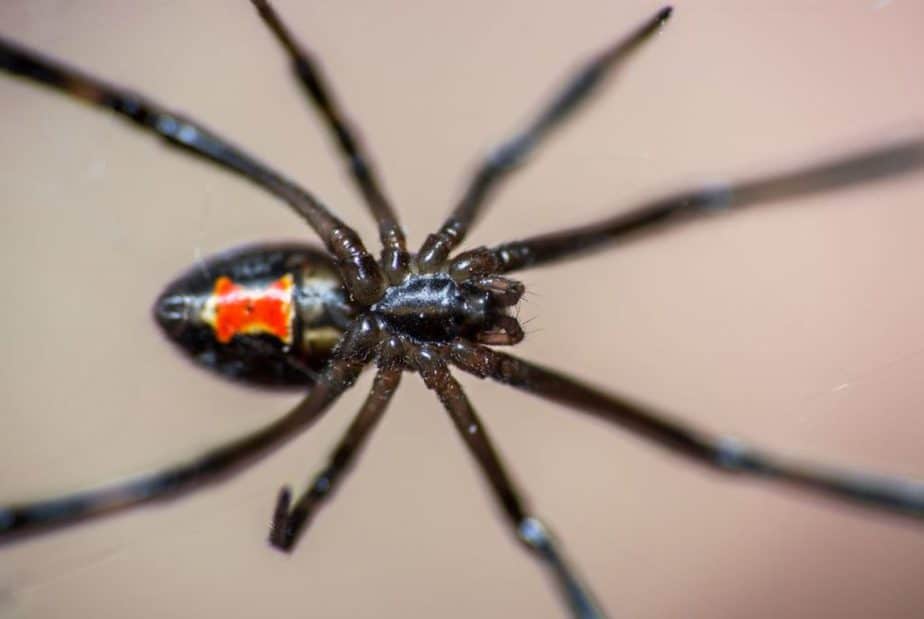 The rest of the spider is often completely black. However, especially juvenile individuals often have several red or white markings on its back.
The male black widow usually has a more oblong and less shiny abdomen but is also less aggressive and bites from male black widow spiders have not been recorded. Several black spiders in Ohio are frequently mistakenly identified as black widows. E.g. false black widow spiders (Steatoda grossa) and other species in the Steatoda genus can have a very similar appearance to widows.
You can read more about the northern or southern black widow in the articles below: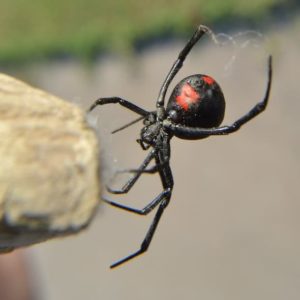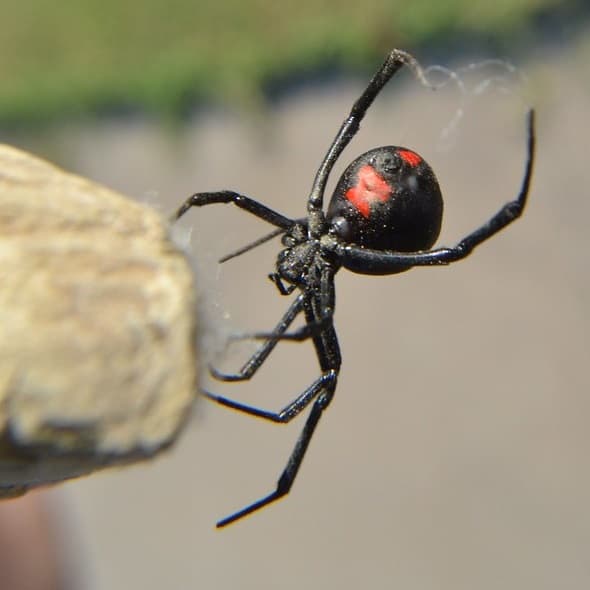 Latrodectus mactans, the Southern black widow is a close relative of the Northern black widow and the Western black widow ...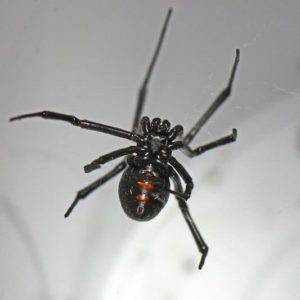 Latrodectus, the black widow spider is one of the most famed and feared spider genera in the world. Hollywood tends ...

Other common spiders in Ohio
Now we have looked at the potentially dangerous spiders in Ohio. Let's next look at spiders in Ohio that are not considered medically significant but are known to bite or show aggressive behavior.
Biting spiders in Ohio
Next to the medically significant spiders mentioned above, yellow sac spiders (Cheiracanthium mildei), broad faced sac spiders (Trachelas tranquillus), the woodlouse hunter (Dysdera crocata), the daring jumping spider (Phidippus audax) and the eastern parson spider (Herpyllus eccleclasticus) are considered biting spiders in Ohio. Bites of these spiders are relatively common and can cause some local swelling and pain, including mild headaches and nausea in some cases. However, they usually don't require any medical attention. You can click on the spider images below to learn more about the spiders:
Large Spiders in Ohio
The largest spider in Ohio is the Carolina wolf spider (Hogna carolinensis) that can reach a leg span of up to 4 in (100 mm). Its body can grow up to 1.5 inch in length. Other large spiders in Ohio are fishing spiders, grass spiders, wood spiders (also called giant crab spiders) and other nursery web spiders.
Common house spiders in Ohio
The most common house spiders in Ohio are black or brown spiders of the cobweb spider family. These spiders that include the false widow spiders are often confused with black widows. Jumping spiders and ground crab spiders are also commonly seen inside people's homes in Ohio.
Crab spiders and orb weaver spiders
Crab spiders and orb weaver spiders are among the most common spiders found in gardens or around our homes. The most commonly seen orb weaver spiders in Ohio are the European garden spider (Araneus diadematus) and the black and yellow garden spider (Argiope aurantia). Another fascinating spider is the flower crab spider (Misumena sp.), one of the few white spiders in Ohio that can even change its color into yellow to perfectly blend into the flowers where it lurks for potential prey.
Other common Ohio spiders
Below, you can find more pictures of common Ohio spiders:
Ohio Spider Identification
If you have found a spider in Ohio that is not on this site or that you are uncertain, head over to our USA spider identification page. We have built a tool that should help you identify the spider you found. If you are still unable to identify the spider, you can upload a picture on that page and we will be happy to do our best to identify the spider for you. Head over to the spider identification tool now.