There are over 600 spider species found in South Carolina. Almost all of them are completely harmless for humans or pets, even though they might look intimidating. This page gives you an overview and identification help for the most common spiders in South Carolina.
We will first take a look at the medically significant spiders found in S.C. and then look at other common brown spiders, orb weavers, jumping spiders and more. You can click on any of the spider images to learn more about the spider.
Poisonous Spiders in South Carolina
While almost all the almost 50,000 spider species in the world are venomous, only very few are considered medically significant. In the United States, only widow spiders (Latrodectus) and recluse spiders (Loxosceles) are considered medically significant. Both of these spider species are found in South Carolina. We will have a look at them and where you are most likely to find them in the state.
Black widows in S.C.
Three species of widow spiders can be found in South Carolina: the less venomous brown widow spider (Latrodectus geometricus), the northern black widow (Latrodectus variolus) and the southern black widow (Latrodectus mactans). All three species have a red hourglass-shape on the underside of their abdomen.
The brown widow is mostly brown with alternating cream-colored and black or dark brown bands around its legs. It is found throughout southern South Carolina south of Georgetown, Columbia and Greenville.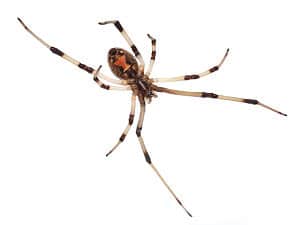 The northern and southern black widows look almost identical at first glance. The larger female has a shiny round black abdomen, long and slender legs and a red hourglass shape on its underside. The southern black widow has an hourglass shape that is merged together to form one shape. The northern black widow has a divided hourglass shape with two separated triangles.
A bite of a black widow can cause nausea, pain, local swelling and other flu-like symptoms. If you are bitten by a black widow, get medical attention immediately. Apply ice to the bite but do not put on a tourniquet.
Southern black widows are found throughout SC. Northern black widows are also widely distributed in the state but have not been seen in the coastal areas around Charleston.
Brown recluse spiders in South Carolina
The brown recluse (Loxosceles reclusa) is the most feared spider in North America. New outlets often pick up lurid stories of brown recluse bites with horrifying images. And yes, brown recluse spider bites can cause severe reactions. However, these reactions are very rare and even more rarely are they deadly. And if you live in South Carolina, we have some good news for you: You are most likely not living in brown recluse area. The spider you found is most likely some harmless brown spider, possibly a wolf spider or a grass spider. You can find some pictures in the next section.
The natural range of the brown recluse only stretches to the Northeastern tip of South Carolina. There are no brown recluses throughout Eastern and Southern South Carolina. If you live somewhere east or south of Anderson or Easley, finding a brown recluse is very unlikely.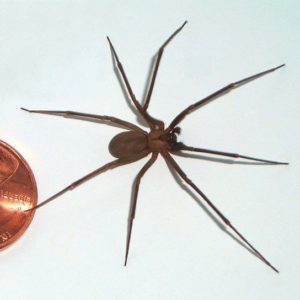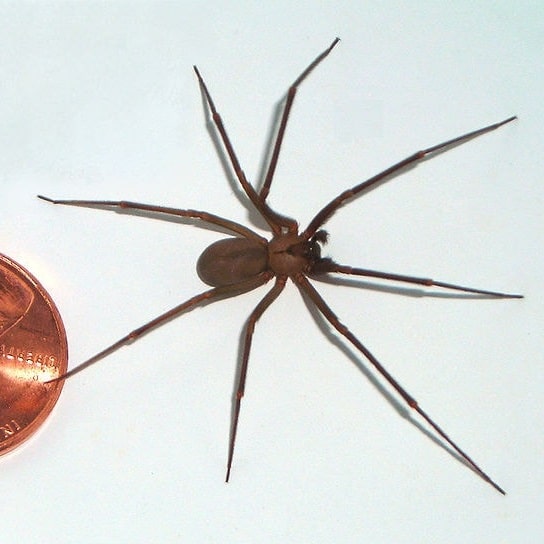 The brown recluse, loxosceles reclusa, is one of the more dangerous spiders indigenous in the United States. While usually not life-threatening, a brown recluse bite might lead to severe skin damage. This page gives an overview of how to identify a brown recluse and in which states in the US it appears. The brown recluse compared to the size of a penny. Brown Recluse Description The brown recluse spider is ...

Large Brown Spiders in South Carolina
Our readers often see a large brown spider in S.C. and fear that they are dealing with a brown recluse. We've talked about the appearance and size of brown recluse spiders above. But what other large brown spiders are there in S.C.?
Carolina Wolf Spiders (Hogna carolinensis)
Carolina wolf spiders are the largest spiders found in South Carolina. The can reach a maximum leg span of up to 4 in (10 cm)and are found throughout SC. Carolina wolf spiders, as most other wolf spiders, are predominantly brown spiders with darker markings on their cephalothorax (head). Wolf spiders are a great insect control animal and are absolutely harmless for humans and pets.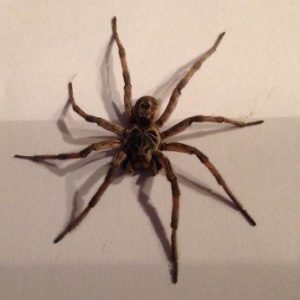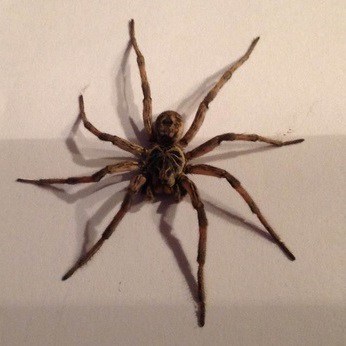 The Lycosidae, commonly called wolf spiders are a family of hunter spiders found throughout the United States and the rest of the world. There are many species of the Wolf Spider in North America, many of which look very similar. Twice in the past I asked an entomologist (both times were different entomologists) to help me identify the different Wolf Spiders that have been sent to me. Both times, they turned me down for the same reason. It is simply too hard to identify the different species of Wolf Spiders without putting the spider under the microscope to look at ...

Other large brown spiders
Other large brown spiders in SC are grass spiders, southern house spiders, fishing spiders, hacklemesh weavers, nursery web spiders and trap-door spiders. You can see pictures below. Simply click on the images or on the read more button for more information about the spider. If you see a brown spider spinning a large round web, you are dealing with an orb weaver. You can find pictures of those below this section.
Orb Weavers
Orb weavers are a family of harmless spiders (Araneidae) that spin large orb-shaped webs to catch their prey. They come in a large number of sizes, colors and shapes and are harmless for humans. The most common and largest orb weavers in South Carolina are banana spiders (Trichonenphila clavipes), black and yellow garden spiders (Argiope aurantia) and European garden spiders (Araneus diadematus). Some orb weavers have peculiar shapes and colors. Here are images of common orb weavers in SC:
Jumping Spiders
Jumping spiders are a family of small to medium-sized spiders that are often found in SC homes. Jumping spiders have great vision and are generally curious towards humans. They rarely bite when handled and are harmless in the few cases where a bite occurs. Jumping spiders get their common name from the fact that they can jump large distances with one quick leap.
Other Common Spiders in South Carolina
Other common house spiders in SC are cobweb spiders (Steatoda), daddy long-leg spiders, cellar spiders, crab spiders. Here are some SC spider pictures:
S.C. Spider Identification
If you have found a spider in South Carolina that is not on our list, check out our spider identification page. There you can find a spider identification tool that will help you identify the spider you found. If that still won't work, just take a picture of your spider and upload it on the identification page. We will do our best to ID the spider for you.