Known in the United Kingdom as the Noble False Widow, Steatoda Nobilis is a species of spider in the genus Steatoda. Historically, this spider is native to Spain's Canary Islands and is thought to have spread to Europe and the British Isles via banana shipments. It gets its name from a passing resemblance to the black widow spider, which can deliver a much more venomous bite.
For over a century, these species of spider have been established in the United Kingdom and have become one of UK's most commonly seen spiders. Since the 1980's, it has been expanding its range to other parts of the world including the United States, Chile, Colombia, and others. In the United States, they have established populations on the West Coast, especially California.
Quick Overview: Steatoda nobilis – Noble False Widow
Medically significant: No
Body size: Female : 0.5 inches (1.5 cm) Male: 0.45 inches (1.2 cm)
Main colors: black and brown with cream-colored markings
Range: Throughout the United Kingdom/ Europe (Introduced to California)
Web: cobweb, tangled web
Steatoda Nobilis Description
Steatoda nobilis has a brown or black bulbous abdomen with cream-colored markings that resemble a skull shape.
The legs of the males are reddish-orange and long, compared to their thin and oblong bodies.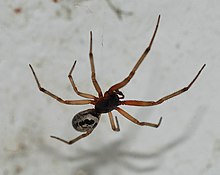 Females are usually larger than males and have a more bulbous abdomen. Overall, their body appears shorter and stockier than the males'.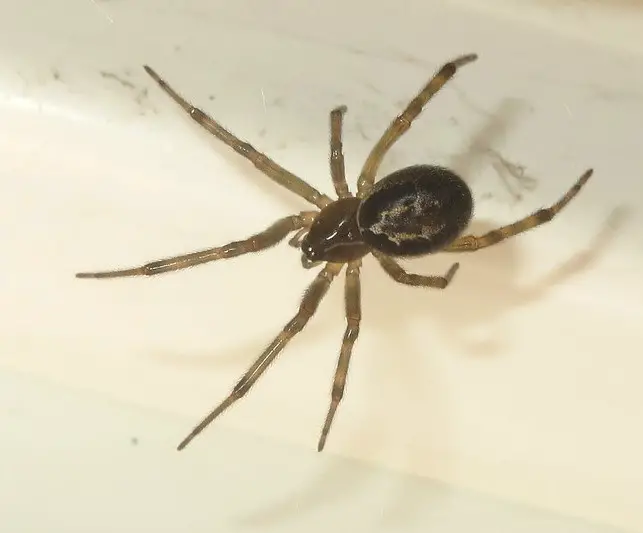 S. nobilis can be best distinguished from other spiders of the genus Steatoda by their cream-colored or white markings on the abdomen that appear like a skull or like a cathedral. They usually have a white or cream-colored line from the end of the marking down the abdomen towards the head. However, all of these marks can be variable, faded, or missing completely, especially in adult females.
Size
Female noble false widows reach an average body size of 0.4-0.5 inches (9.5 to 14 mm), while the smaller male reach a maximum of 0.45 inches (7 to 11 mm).
Web
Noble false widows build a tangled cobweb with sticky strands to catch prey. However, they have a bad vision and depend for the most part on vibrations coming to them through their cobweb to locate the prey that has entered their web.
Steatoda Nobilis Bite
Although False widows have a venomous bite, it is not particularly potent. The only symptoms usually pain at the bite site, which may radiate away from the bite as well as localized swelling. The symptoms of a bite usually last between one and twelve hours, and rarely more than twenty-four hours. Often, the symptoms are no more painful than a wasp sting.
Steatoda Nobilis Scientific Classification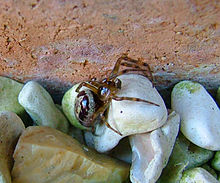 Kingdom: Animalia
Phylum: Arthropoda
Subphylum: Chelicerata
Class: Arachnida
Order: Araneae
Infraorder: Araneomorphae
Family: Theridiidae
Genus: Steatoda
Species: Steatoda nobilis
Distribution of the Steatoda Nobilis spider in the USA
The species, which is thought to have originated in the Canary Islands and Madeira, is well established in Western Europe and large parts of the Mediterranean area and has recently spread into California and South America.
In California, it is especially abundant in the Los Angeles area and in Orange County.
Steatoda nobilis – Noble False Widow