The red-backed jumping spider, Phidippus johnsoni, is found throughout the Western United States and Canada. The spider has a black body and the back of its abdomen is bright red.
Description of the Red-Backed Jumping Spider
The redbacked jumping spider is generally quite easy to identify. It's body is predominantly black with a brightly red colored abdomen. The abdomen of the smaller male is completely and uniformly red while the female's back is red with a black longitudinal stripe along the abdomen. Sometimes, there are a few small white or yellow dots on the abdomen and the red area itself is surrounded by a thin yellow or white line.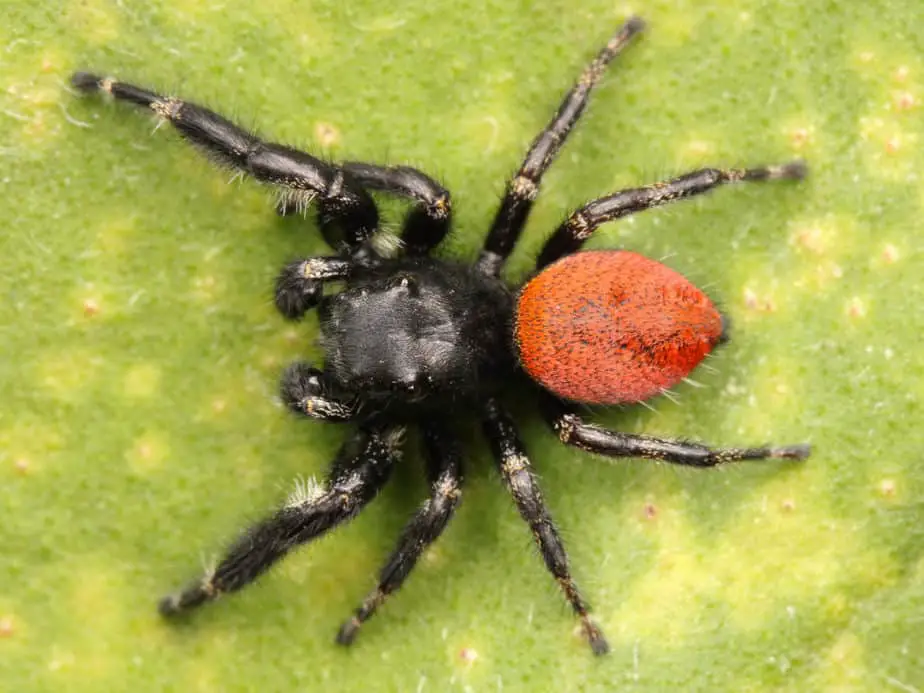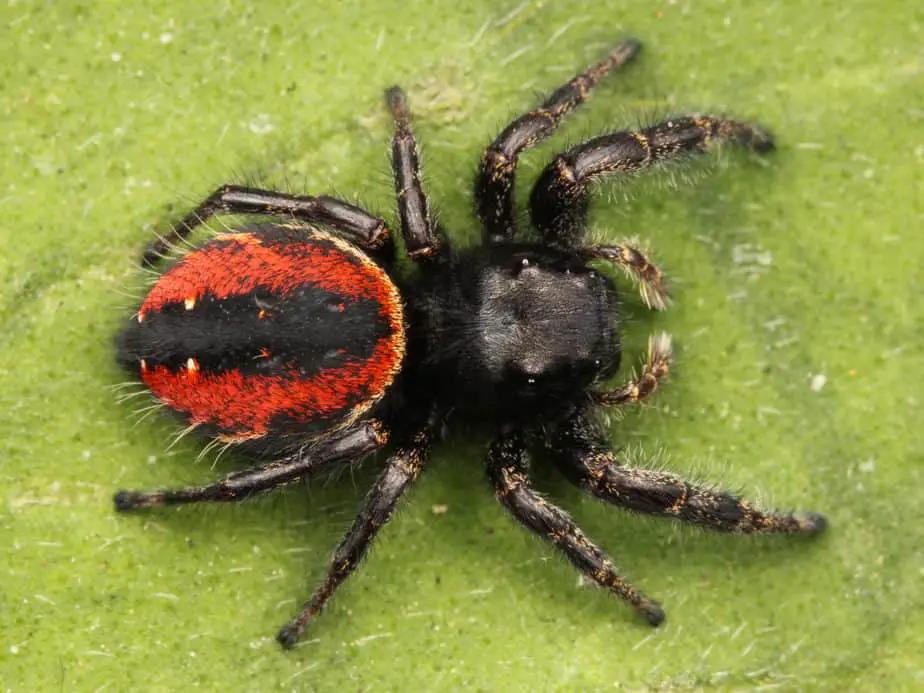 The spider's chelicerae (jaws) are iridescent and teal-colored. The red-backed jumping spiders shares this beautiful trait with many other species of jumping spiders.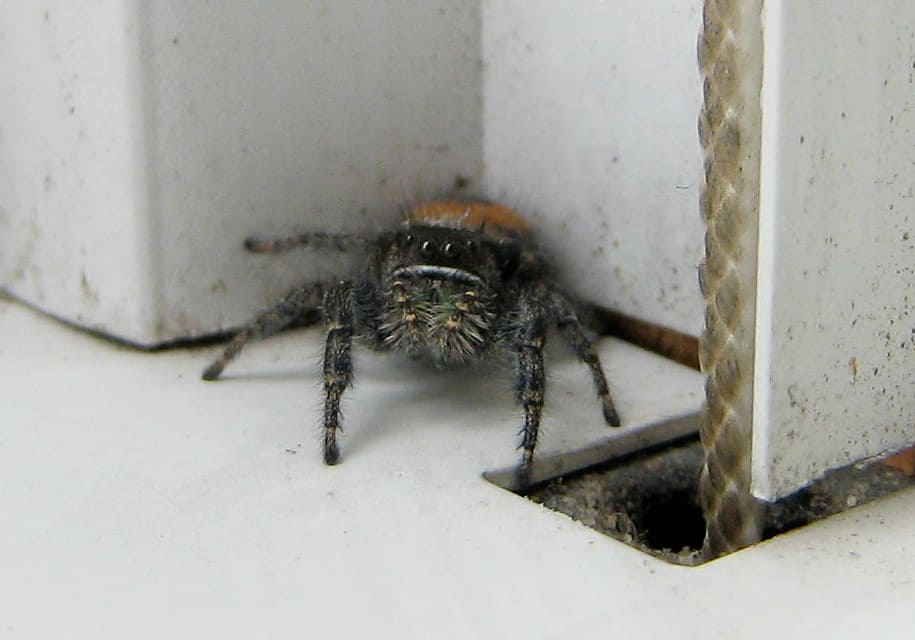 With its black and red appearance, the red-backed jumping spider mimics the appearance of velvet wasps (mutillid wasps). The exact evolutionary reason behind this mimicry is still unknown. However, it is believed that the appearance should deter potential predators as velvet wasps can deal a painful sting.
Within its range in the Western United States, Phidippus johnsoni can be confused with Phidippus carneus. However, Ph. carneus usually has distinctive white bands around the legs and the white ring around the red coloration on the back is usually thicker in Ph. carneus. Another similar-looking species is Phidippus clarus, which occurs mostly in the Eastern United States.
Size
The red-backed jumping spider is relatively large, compared to other jumping spiders. Females reach an average body length of 0.35-0.55 in. (9-14 mm). Their legs are quite short and their total leg span is just slightly longer than the body size. Male individuals are smaller and reach and average body size of 0.25-0.45 in. (6-11 mm).
Web
Jumping spiders do not spin webs in order to catch prey animals. They are active hunters preying on flies, moths, bugs as well as other spiders. Jumping spiders mainly use their ability to spin silk to spin a "safety line" during their jumps. If the jump fails, the spiders falls into the safety line from where it can climb back to safety.
Bites
The red-backed jumping spider is not an aggressive spider and its first instinct is to run away (or jump away) if humans or animals approach it. In rare occasions, they do bite humans or pets leading to some local swellings or potentially a mild headache. Other known symptoms are not known from the relatively mild venom of jumping spiders.
Scientific Classification of Phidippus johnsoni
Kingdom: Animalia
Phylum: Arthropoda
Subphylum: Chelicerata
Class: Arachnida
Order: Araneae
Infraorder: Araneomorphae
Family: Salticidae
Genus: Phidippus
Species: Phidippus johnsoni
Distribution of the Red-Backed Jumping Spider in the USA
The red-backed jumping spider occurs in the Western United States, west of the Great Plains. The spider is especially common in California and is also found in the following U.S. States: New Mexico, Colorado, Wyoming, Montana, Arizona, Utah, Idaho, Nevada, Oregon, Washington.
References
Phidippus Johnsoni – Red-Backed Jumping Spider